DITI - Drum Intelligent Trigger Interface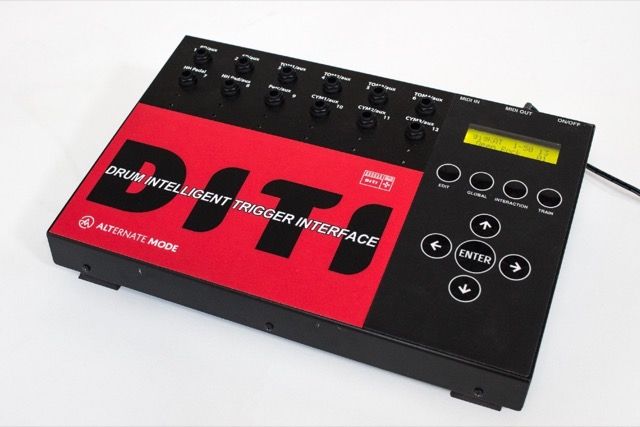 DITI is the world's most powerful Trigger to MIDI Interface from Alternate Mode.
Overview
The DITI is designed especially for powering Alternate Mode's jamKAT, jamKAT'R or DrumKAT Hybrid FSR pads such as the inHEAD, onHEAD, jamKAT and altZONE. It also has built in presets for piezo triggers, membrane switch pads, cymbals and more. There are built in "pad types" that define what brand trigger you are using so that the setup process is easy.
What makes the DITI so special is its focus on making your pads and triggers "EXPRESSIVE". It captures your playing like no other interface on the market. It understands your dynamics and allows you to add features that give incredible power to your performance. Simply put, the DITI is the World's most powerful Trigger to MIDI interface. It gives you, the performer, the power and control to use any trigger you want, in the configuration that is best for you and disregards the need to be loyal to just one brand of trigger, sound module or soft synth. With the DITI's focus on using FSR sensing technology, REAL HYBRID TECHNOLOGY is finally available. Acoustic drum heads with imbedded FSR sensors and multi zoned pad layouts like the jamKAT offer dynamics and expression never before possible.
The DITI has built in Kits (pre-mapped settings) so that you can get up and running quickly. If you don't find your drum module's Kits on the DITI, you can go to our website, and download our ever growing list of sound modules, drum machines, soft synths and pad types to suit your needs.
Adaptability:
Use any Combination of Triggers, Switches, or Pedals From any Manufacturer.
Combine different trigger types: up to 24 triggers including combinations of mesh heads, membrane switches, dual zones, cym chokes, etc. can be combined to work together as one setup.
OUT OF THE BOX compatibility with Alternate Mode's jamKAT, jamKAT'R or DrumKAT Hybrid
Freedom:
Map Your Setup to any Hardware Synth, Software AU, or Drum Module
Preset Note Mappings and MIDI Parameters to translate your trigger inputs are available for most drum modules or synth software, either internally or as a simple download from Alternate Mode's website.
Tweak-ability to the nth degree: create personal dynamic curves, velocity ranges, gate times etc.
Individual Controls for every trigger: including dynamic training, interaction matrix training, MIDI channel, velocity range, etc...
Play up to 32 notes per trigger: using alternate note patterns, or velocity shift modes or chords. This includes the ability to control resets and note freezes on triggers individually or globally.
Special Gate modes: such as LATCH for looping, Roll Mode, Infinite Mode, etc
Variable HiHAT control options: including continuous control, hatnote mode and GM note number standard.